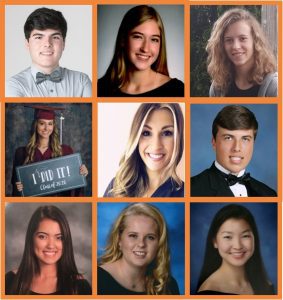 This year, the Catholic Community Foundation of Southwest Florida, Inc. has awarded 39 deserving students from throughout the Diocese of Venice with college scholarships totaling $110,400.  These awards were made possible by way of three different scholarship funds established by donors with the Catholic Community Foundation.  Scholarship funds are wonderful ways to honor or memorialize friends, teachers, family members or other loved ones passionate about the importance of education.
Scholarship funds, like the Mary Fran Carroll Scholarship, serve as a powerful Catholic Legacy to support and encourage students.  This scholarship is awarded to both traditional and non-traditional students in Sarasota County who have articulated a focused career plan along with how they expect to help the community with their chosen career.  This year, 11 new students received the Mary Fran Carroll Scholarship along with 23 students who successfully renewed their scholarship by maintaining a high grade point average while in college.
The Frank & Florence Coseglia Scholarship is awarded to one graduating senior from each of the four Catholic High Schools within the Diocese of Venice.  The four winners were recognized for their academic standing, service to their Parish and School, as well as an essay on what their Catholic Education has meant to them.
The Catholic Community Foundation added a new scholarship this year.  The Frederick W. Schaerf, M.D., Ph.D. Neuroscience Scholarship is awarded to a graduating senior from Bishop Verot Catholic High School in Fort Myers who is interested in pursuing a career in neuroscience or similar field.  The family chose to create the scholarship to honor the late Dr. Schaerf, who specialized in clinical research associated with Alzheimer's disease and related memory disorders.
The Catholic Community Foundation of Southwest Florida, Inc. supports the mission of Christ in the Diocese of Venice by providing philanthropic opportunities for individuals and families to create lasting Catholic Legacies.  It is also the only foundation in Southwest Florida that invests donor gifts in alignment with the teachings of the Catholic Church.
To learn more about the Catholic Community Foundation, contact Michael Morse at 941-441-1124 or by email at Morse@dioceseofvenice.org or visit the Foundation at www.CCFDioceseofvenice.org.