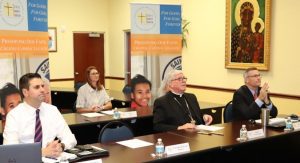 Bishop Frank J. Dewane, joined by board members of the Catholic Community Foundation of Southwest Florida Inc., led a virtual presentation ceremony May 27, 2021, from the Catholic Center in Venice to honor 17 foundation scholarship winners.
The recipients of the Mary Fran Carroll, Coseglia, and Schaerf scholarships were recognized for their outstanding academic achievements and for their commitment of continuing their education in pursuit of wide-ranging career paths such as education, medicine, business, engineering, and more.  The Foundation Scholarship Committee carefully reviewed 97 applications before determining the worthiest applicants.
Bishop Dewane opened the presentation with prayer and said he was impressed with the new Foundation Scholars noting their academic success and ambition to seek out distinctive goals.  "God has blessed you each with different gifts.  Enjoy what you are going to do but keep an eye on that goal."
Michael Morse, Executive Director of the Catholic Community Foundation, congratulated the new scholars, saying the young men and women are worthy to forever be known as Foundation Scholars.  "Every one of you, from what we learned, is unique, special, strong and smart; embrace that."
The Mary Fran Carroll Scholarship provides a total of 11 academic scholarships, each valued at $3,000, to residents of Sarasota County and is available for tuition, books, and fees.  This year there were 10 traditional scholarship winners (high school graduates or recent high school graduates pursuing an undergraduate degree) and one non-traditional winner (an adult learner seeking an advanced education after being away from school for a number of years).  The scholarship is renewable annually up to a total of five academic years for those students who maintain their eligibility.
The Frank and Florence Coseglia Scholarship provides a one-time scholarship of $1,100 to one graduating senior from each of the four Catholic High Schools within the Diocese of Venice.  The winners were nominated by their high schools and selected by the Foundation Scholarship Committee.
The Frederick W. Schaerf, M.D., Ph.D. Neuroscience Scholarship provides a $4,000 one-time scholarship to a graduating senior from Bishop Verot Catholic High School in Fort Myers interested in pursuing a career in Neuroscience or similar field.  This was the second year the scholarship was offered.
The Foundation also presented a one-time Foundation Scholarship for $7,500 to a graduating senior from Bishop Verot, which was offered by an anonymous family at the school.
During the virtual scholarship ceremony, the recipients shared their personal experiences as well as college and career goals.  Each expressed their appreciation for the scholarship from the Foundation.  Many specifically explained how the scholarship money will assist in lessening the financial burden of attending college and pursuing their career goals.
If you are interested in learning more about supporting an existing scholarship fund or establishing your own named scholarship fund with the Catholic Community Foundation, please contact Michael Morse at 941-441-1124 or by email at Morse@dioceseofvenice.org.