Catholic Community Foundation presents 16 scholarships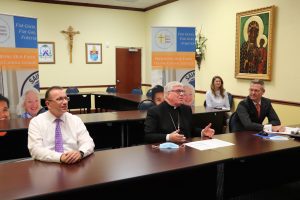 Bob Reddy, Florida Catholic
Venice –
Bishop Frank J. Dewane, joined by members of the Catholic Community Foundation of Southwest Florida Inc. Board, led a virtual presentation ceremony on May 20, 2020 from the Catholic Center in Venice to honor 16 Foundation scholarship winners.
The recipients of the Mary Fran Carroll, Coseglia and Schaerf scholarships were recognized for their outstanding academic achievements and for their commitment of continuing their education in pursuit of wide-ranging career paths such as nursing, pediatrician, veterinarian, engineering and more. The ceremony is typically held in person, but the COVID-19 pandemic necessitated the virtual ceremony.
Bishop Dewane opened the presentation with prayer and said he was impressed with the new Foundation Scholars adding that many are interested in going into the medical field, where there is a great need. "God has blessed you each with different gifts. Enjoy what you are going to do but keep an eye on that goal."
Michael Morse, Executive Director of the Catholic Community Foundation, congratulated the new scholars, saying the young men and women are worthy to forever be known as Foundation Scholars. "Every one of you, from what we learned, is unique, special, strong and smart; embrace that."
The Mary Fran Carroll Scholarship provides a total of 11 academic scholarships, each valued at $3,000, to residents of Sarasota County and is available for tuition, books and fees. This year there were 10 traditional scholarship winners (high school graduates pursuing an undergraduate degree) and one non-traditional winner (an adult learner seeking an advanced education after being away from school for a number of years). Scholarship applicants were asked to complete an online application and financial needs assessment in addition to submitting a clearly articulated career plan describing their chosen course of study. Traditional students needed to be accepted into an accredited college or university and non-traditional students needed to be accepted into an accredited college, university or vocational program. Scholarships may also be renewed annually up to a total of five academic years for students maintaining a minimum unweighted GPA of 3.2 or greater, while also making progress toward their career goal.
The Frank and Florence Coseglia Scholarship provides a one-time scholarship of $1,117.00 to one graduating senior from each of the four Catholic High Schools within the Diocese of Venice. The winners were nominated by their high schools and approved by the Foundation Board.
The newest award offered through the Foundation is the Frederick W. Schaerf M.D. Ph.D. Neuroscience Scholarship, which provides one $4,000 one-time scholarship to a graduating senior from Bishop Verot Catholic High School in Fort Myers interested in pursuing a career in neuroscience.
The Foundation Scholarship Committee carefully reviewed applications before determining the worthiest applicants.
During the virtual scholarship ceremony, the recipients shared their personal experiences as well as college and career goals. Each expressed their appreciation for the scholarship from the Foundation. Many specifically explained how the scholarship money will assist in lessening the financial burden of attending college and pursuing their career goals.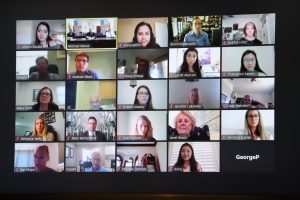 Mary Fran Carroll Scholar Elizabeth Steindorf graduated from Riverview High School and is a parishioner at Christ the King Parish in Sarasota, who will be attending the Louisiana State University Ogden Honors College to study chemistry on a pre-med track in hopes of becoming either a general pediatrician or pediatric surgeon. "Thank you. This scholarship will help pay for my undergrad so I can focus my funds toward medical school in the future."
Board President Dominick Cavuato summed up the sentiments of the Board when he noted how the new Foundation Scholars are an impressive group of young women and men.
"We congratulate you on the journey you have taken so far, and we look forward to hearing great things in the future," Cavuato said.
The Catholic Community Foundation of Southwest Florida Inc. was established to provide philanthropic opportunities for individuals, such as Mary Fran Carroll, to create lasting gifts in support of Catholic programs and ministries within the Diocese of Venice. Last year alone, the Foundation distributed $1.2 million in endowed support for Catholic Schools, Parishes, Seminarian education, programs for the needy, college scholarships and more.
To learn more about the Catholic Community Foundation, please contact Michael Morse at 941-441-1124 or by email at Morse@dioceseofvenice.org.  You can also visit the Foundation website at www.CCFDioceseofvenice.org.